Spicy Cranberry Relish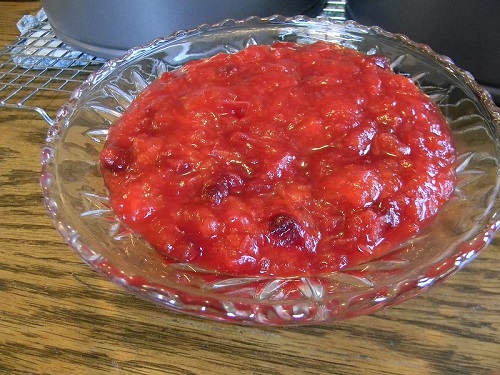 This cranberry relish is made spicy with the addition of ginger, and cardamon.
Ingredients:
3 c Cranberries ,washed

1 c Honey

1 c Water

1 Naval orange, medium

1 tsp. Ginger, fresh or ground

1/2 tsp. Cinnamon, ground

1/2 tsp. Cardamom, ground



Directions:
Bring cranberries, honey and 1/2 cup of water to a boil in a saucepan.
Cover and simmer for 10 minutes, then uncover and simmer 10 minutes longer, stirring occasionally.
Quarter unpeeled orange and chop it finely in food processor.
Add to simmering cranberry mixture with remaining 1/2 cup of water and spices.
Stir well and simmer an additional 20 minutes, stirring occasionally.
Chill before serving.