Creamy Cajun Shrimp Diane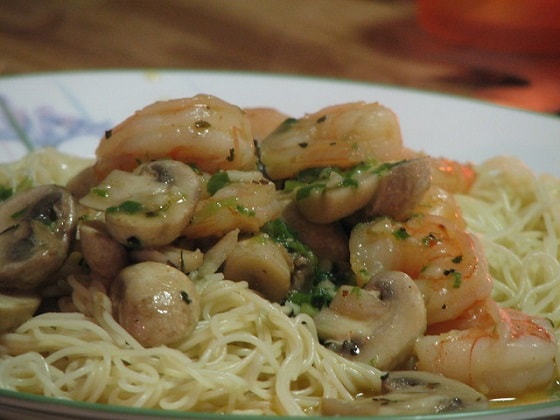 Ingredients:
2 Tablespoons butter

1/4 bunch parsley, chopped and divided

2 cups porcini mushrooms, sliced

1 1/2 Tablespoon Cajun seasoning, or to taste

1 pound shrimp, shelled, heads removed and cleaned

1/2 lemon, juiced

1/3 cup cream, divided

1 dollop sour cream

Salt, to taste

Pepper, to taste

1 – 1 1/2 cup water



Directions:
Melt butter over medium-high het in a large, heavy bottom non-stick pan . Add half the parsley and the mushrooms and sauté until mushrooms are cooked through and softened , 3 -5 minutes.

Add 1 Tbsp. of Cajun seasoning, 2 Tbsp. of the cream and the shrimp. Continue to sauté until shrimps are opaque, 1 minute.

Add lemon juice and continue to sauté for another minute. Add cream and water and cook until sauce starts to come to a boil.

Turn down heat to low, add the rest of the Cajun seasoning and stir to combine.

Add sour cream and mix thoroughly. Season with salt and liberally with pepper. Taste and add more seasonings if desired.

Serve over pasta.
Cajun Recipes-Cajun and Creole Recipes