Kielbasa and Chicken Gumbo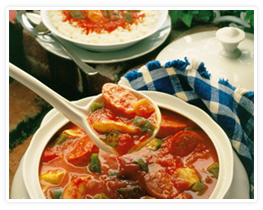 Ingredients:
6 slices bacon

1 pound Kielbasa, OR smoked sausage, cut into 1-inch slices

1/2 pound boneless chicken breast, cut into 1-inch chunks

1/4 cup flour

1 12-oz can tomato juice

1 cup water

1 28-oz can whole tomatoes, cut up

2 chicken bouillon cubes

1 8-oz can tomato sauce

1 1/2 cups okra, sliced OR 10-oz package frozen cut okra, thawed

1 medium onion, coarsely chopped

1 medium green bell pepper, coarsely chopped

2 bay leaves

1/2 teaspoon salt

1/2 teaspoon cayenne

1/8 teaspoon ground allspice

1 pound shrimp, medium, peeled and deveined

1 teaspoon file powder, * (optional)

cooked rice, (optional)



Directions:
In a Dutch oven cook bacon until crisp; remove. Drain and crumble on paper toweling; set aside. Cook kielbasa and chicken in hot bacon drippings until chicken is browned. Remove kielbasa and chicken, reserving 3 tablespoons drippings in Dutch oven.

Add flour to drippings; cook over medium heat, stirring constantly, for 12-15 minutes or until a reddish-brown roux forms. Gradually stir in tomato juice and water. Add tomatoes and bouillon, stirring well. Add kielbasa, chicken, tomato sauce, okra, onion, green pepper, bay leaves, salt, red pepper and allspice; mix well. Bring to a boil. Reduce heat; cover and simmer 1 hour, stirring occasionally.

Add shrimp and simmer, covered, for 10 minutes. Remove and discard bay leaves. Stir in file powder and bacon; mix well. Serve over hot cooked rice, if desired.
Serves 10
* File powder is an integral part of Creole cooking. The seasonings is made in part from the dried ground leaves of the sassafras tree and has a woodsy flavor similar to root beer. It is usually available in the spice or gourmet section of larger supermarkets.
Serves 10 Prep time: 20 minutes Cook time: 1 hour 30 minutes
Recipe and photo used with permission from http://www.porkbeinspired.com