Hot Chocolate Christmas Cupcakes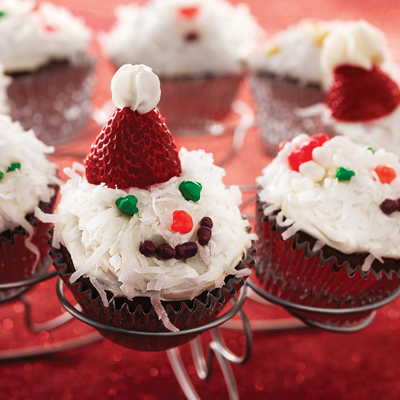 Ingredients:
12 cupcake liners

2 envelopes Rich Milk Chocolate Flavor NESTLÉ Hot Cocoa Mix

1 cup NESTLÉ NESQUIK Chocolate Flavor Powder

1 cup all-purpose flour1 cup (6 ounces) NESTLÉ® TOLL HOUSE® Semi-Sweet Chocolate Morsels

1 teaspoon baking powder

1/2 cup vegetable oil

4 large eggs

1 cup sour cream

1 container (16 ounces) prepared vanilla frosting
DECORATIONS
1 cup sweetened flaked coconut

12 fresh or frozen, thawed strawberries (if strawberries are unavailable, use red gumdrops)

1 box (7 ounces) WONKA NERDS Candies



Directions:
PREHEAT oven to 350° F. Line 12 muffin cups with cupcake liners.

COMBINE hot cocoa mix, Nesquik, flour, morsels and baking powder in a medium bowl; mix well. Combine oil, eggs and sour cream in a small bowl. Mix egg mixture into cocoa mixture; mix until thoroughly combined. Pour batter evenly into cupcake liners.

BAKE for 20 to 25 minutes or until wooden pick inserted in cupcakes comes out clean. Cool completely. Frost with frosting or follow directions to make snowman cupcakes.
TO DECORATE:
FROST cooled cupcakes with frosting. Top with coconut.

DAB bottom of strawberries or gumdrops with frosting. Place on top of cupcakes to form hats.

FORM the eyes, nose and mouth by placing a small amount of frosting on Nerds colors of your choice and adhere to the top of the cupcakes.
Cook's Tip: Coat the chocolate morsels in the dry ingredients to prevent them from settling to the bottom of the cupcakes during baking.
Makes 12 cupcakes. Prep time: 15 minutes. Total time: 50 minutes Courtesy of Nestle and meals.com.