Honey-Orange Glazed Ham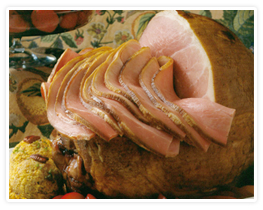 Ingredients:
8 pound fully-cooked boneless ham

2 tablespoons orange juice

1 cup honey

1/4 teaspoon ground cinnamon

1/4 teaspoon ground cloves



Directions:
For glaze, in a small bowl combine orange juice, honey, cinnamon and cloves; mix well.

Place ham on rack in shallow roasting pan. Roast in a 325 degrees F. oven for 2 hours, or until meat thermometer registers 140 degrees F. (about 15-18 minutes per pound), basting with the honey glaze during the last 45 minutes.
Serves 24 Prep Time: 15 minutes Cook Time: 2 hours
Used with permission from http://www.porkbeinspired.com