Smothered Okra Tomatoes with Shrimp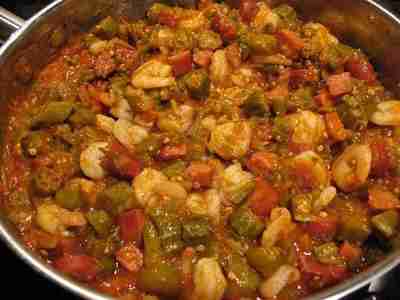 Ingredients:
2 quarts fresh okra, sliced (PicSweet Frozen will work if fresh Is not available, just not as good as fresh)

1 pound small to medium shrimp, peeled and deveined

3 cups diced tomatoes

¼ cup vegetable oil

3 to 4 cloves chopped garlic

1 cup diced onions

1 cup diced celery

½ cup diced yellow bell peppers

½ cup chicken stock or shrimp stock if available

Slap Ya Mama to taste or salt and cracked black pepper to taste



Directions:
In a 4-quart saucepan, heat oil over medium-high heat.

Sauté okra, onions, celery, bell peppers and chopped garlic approximately 30 minutes.

Stir constantly until okra stops "stringing."

Stir in tomatoes and chicken stock, bring to a low boil and cook approximately 45 minutes, stirring occasionally.

Add shrimp and continue to cook additional 15–20 minutes.

Season to taste.
Cajun Recipes-Cajun and Creole Recipes