Cajun Fried Cabbage With Sausage
This recipe and photo is from Pop's he says that: "Sometimes you have a rough day and just want something quick and good...this is it!"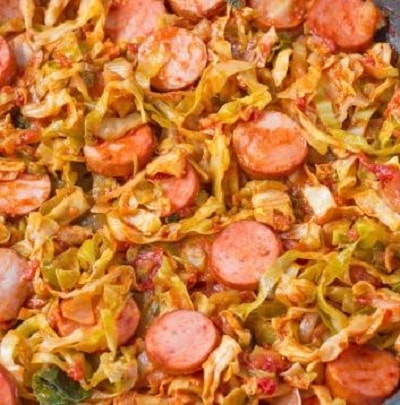 Ingredients:
1 stick butter or margarine

1 small head of cabbage, chopped

1 small onion, chopped

1 pound smoked sausage, (I like Polk's Cajun Sausage) sliced into round pieces (had some left over chicken and threw that in)

1 (15 ounce) can diced tomatoes or Rotel tomatoes

1/2 teaspoon salt

1/2 teaspoon pepper



Directions:
Melt butter in large skillet.

Add cabbage, onion, and cook on medium high for about 5 minutes stirring to keep from sticking to pan.

Add remaining ingredients, cover and simmer for 20 – 25 minutes.
Note: Pop's said he had some leftover cornbread muffins, all he did was heat them up and that was some good meal! He also had a little leftover chicken that he threw in! If you have some leftover cornbread or muffins, they would go great with this cabbage and sausage! If not, you might want to take the time to make some!
Cajun Recipes-Cajun and Creole Recipes