Mr. G's Crawfish Jambalaya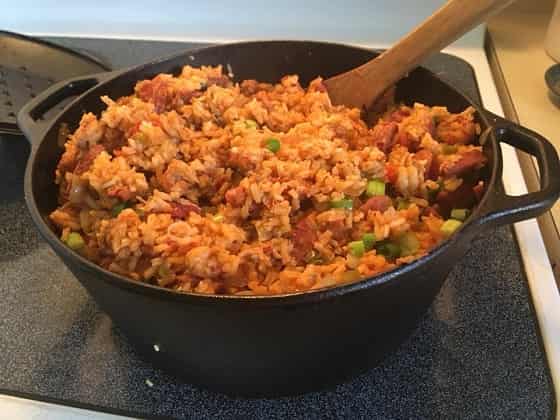 Ingredients:
1 pound of browned Savoie's hickory smoked Andouille sausage cut into half moons

About two cups of chopped onion sautéed in couple of tablespoons of peanut oil

1 chopped green bell pepper

1 chopped red bell pepper

2 sticks of celery chopped

2 Tsps. minced garlic

14.5 oz. can of diced fire roasted tomatoes

1 cup of Mr. T's Bold and Spicy Bloody Mary Mix

2-3 tbsp. of Worcestershire

3-4 cups of chicken broth

1 tsp. Emeril's essence

1 tsp. Paul Prudhomme's seafood magic

1 tsp. garlic powder

1 tsp. onion powder

1 tsp. Slap ya Mama seasoning

2 lbs. of peeled crawfish tails

4 cups rice

1/2 cup green onion as garnish

salt/pepper and crystal hot sauce to taste



Directions:
Brown the sausage in a skillet.

Sauté chopped onions in 2 tbsp. of peanut oil in a cast iron pot.

Drain and add sausage to the cast iron pot.

Add all other ingredients to the cast iron pot, except green onions, and stir.

Bring to a simmer and cook about 45 minutes or until liquid is absorbed and rice is done.

Garnish with green onions.

Serve and enjoy!
Recipe and photo courtesy of Jim Gauley. Thanks!
Cajun Recipes Cajun and Creole Recipes