Cajun Crawfish File Gumbo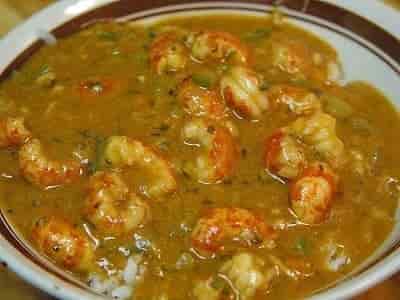 Ingredients:
1 c Shortening

1 c Flour

1 Onion, minced

1/4 c Parsley, minced

3 Pods garlic, minced

1/4 c Celery leaves, minced

1 lb Crawfish tails, cleaned

8 c Water

1/2 c Crawfish fat

Seasonings to taste



Directions:
Make a roux by cooking shortening and flour together to make a golden brown color while stirring constantly.

Add onions and cook until soft. Add crawfish fat. Stir constantly while cooking over low heat until shortening floats on top.

Add water and seasonings. Simmer over a low heat for 30 min.

About 1/2 hr. before serving, add garlic and crawfish tails and let simmer for 25 min. longer.

Add parsley, green onion tops, celery leaves and simmer 5 min. longer.

Just before serving, add about 3/4 tsp. file powder, if desired. Serve in soup plates with hot steamed rice and Tabasco sauce, if desired.
Recipe yields 6 servings