Crawfish Bread Bowl by Slap Ya Mama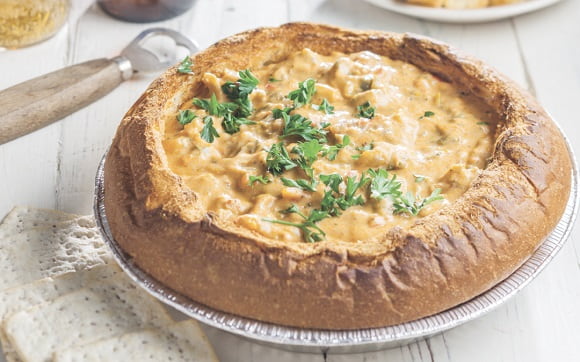 This crawfish dip by Slap Ya Mama, is creamy, cheesy and oh so delicious! Easy to serve, as it's baked in a bread bowl.
Ingredients:
½ cup unsalted butter

1 medium yellow onion, chopped

½ red bell pepper, chopped

2 cloves garlic, minced

1 tbsp Worcestershire sauce

4 ounces cream cheese

1 (10.5-ounce) can of cream of shrimp soup

1 (8-ounce) can of tomato sauce

1 (5.5-ounce) can vegetable juice

½ cup shredded Monterey jack cheese

½ cup half-and-half

1 lb cooked crawfish tails

2 tsp lemon zest

Slap Ya Mama Original Blend Cajun Seasoning, to taste

Handful chopped green onion

3 tbsp chopped fresh parsley

1 tsp dried thyme

Dash of Slap Ya Mama Cajun Hot Sauce or Green Pepper Sauce

1 (16-ounce) loaf Hawaiian sweet round bread

Garnish: chopped fresh parsley

Assorted crackers, to serve



Directions:
Preheat oven to 325°

In a medium saucepan, melt butter over medium heat. Add onion, bell peppers, and garlic; sauté until tender. Stir in Worcestershire. Add cream cheese, stirring until melted. Add soup, tomato sauce, and vegetable juice, stirring until well combined. Add cheese and half- and-half, stirring until cheese is melted.

Season crawfish with zest and Slap Ya Mama Original Blend Cajun Seasoning. Add crawfish mixture, green onion, parsley, thyme and Slap Ya Mama Original Blend Cajun Seasoning to pan. Cook over low heat until thickened, about 3 minutes. (thicken with flour, if necessary.) Remove from heat.

Cut top off bread round, and set aside. Hollow out inside of loaf. make sure enough bread is left inside so that the bread does not have any holes. Press bread down inside bowl. Left over bread can be cubed and baked for dipping in crawfish dip.
Place bread bowl on a baking sheet. Pour crawfish mixture into bread bowl.

Bake for 30 minutes. Return top of bread round to bread bowl, and cover entire round with foil. Bake 20 minutes more. Remove top of bread round, and garnish with parsley, if desired. Serve warm with bread pieces and crackers.
Recipe and Photo Courtesy of Slap Ya Mama Used with permission
Cajun Recipes-Cajun and Creole Recipes