Crab and Spinach Bisque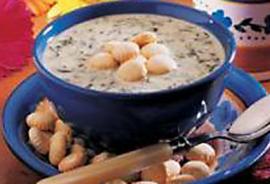 Ingredients:
4 – 10oz bags of fresh spinach

1 lb. butter

3/8 cup flour

3/4 cup cream cheese

1 cup milk

2 pints whipping cream

1 lb. crabmeat

1/2 can chicken stock or 1 can chicken bouillon

pinch of white pepper



Directions:
Chop spinach fine, if using a food processor, do not puree. Set aside with its juice.

Melt butter in a large pot, then add flour and stir until smooth, making sure there are no lumps. Add cream, crabmeat and chicken broth or bouillon. Add spinach and simmer.

Melt cream cheese on a slow fire until smooth. Add milk and stir. Add to soup and let cook for 5 minutes. Slowly add water until the bisque

reaches desired consistency.
Source: LouisianaSeafood.com and Tujague's Restaurant