Cajun Fried Soft Shell Crabs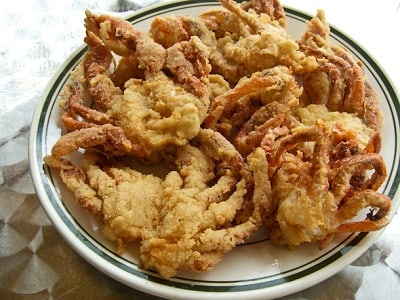 Ingredients:
4-6 medium soft shell crabs, cleaned

1/3 cup milk

2 eggs, beaten

2 teaspoons Cajun seasoning, salt, pepper and garlic powder to taste

2 cups all purpose flour

3 teaspoons lemon seasoning



Directions:
Mix milk and eggs in bowl with seasonings. Put flour and lemon seasoning in shallow bowl and mix well.

Run crabs through dry mixture, then wet mixture and back through dry mixture.

Place crabs in deep fryer. Cook for 2 minutes on one side, gently turn and repeat on other side until crab is golden brown.

Drain crabs on paper towels and serve hot.
Bon appétit!!!
This recipe is courtesy of Evelyn Brandon. Please go give her a visit at Evy's Cajun Kitchen.
Quote from Evelyn:
"I remember as a kid, when mom would make soft-shell crabs. It was always a special occasion, or somebody's birthday. They are, and have always been very expensive to buy.
But my daddy was a swamp man, before Swamp People were cool. He was used as alligator bait (no kidding), and he has hunted and fished everything in the swamps. he was born and spent most of his younger years on a houseboat in Barataria, La. Luckily enough, he knows how to "make" soft-shell crabs.
I consider myself lucky to have grown up on some of the best food life has to offer. There's nothing like the delicacies of the bayous and swamps of Southeast Louisiana and Southeast Texas.
To share this recipe with y'all is to see me let go of a family recipe that has been coveted and cherished for many years. I hope y'all enjoy my mama's crab recipe."
Cajun Recipes