Cajun Crawfish Twice Baked Stuffed Potatoes
Once again, our great friend Evelyn Brandon has shared her recipe for these awesome crawfish stuffed potatoes with cheese and yummy spices! Thank you so much Evelyn! Evelyn also posts her recipes on Evy's Cajun Kitchen, please go give her a visit and tell her I sent ya! She doesn't share many of her treasured recipes, so you need to grab this one while ya can!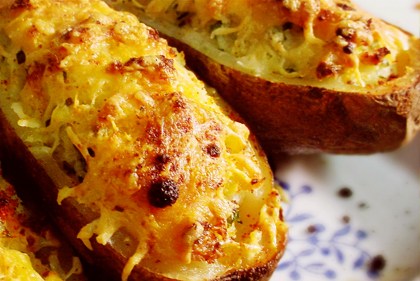 Ingredients:
1 pound crawfish meat, rough chopped

6 large baking potatoes

1/2 cup green onions, finely chopped

1/2 stick butter or margarine (I never use margarine)

1/4 tsp. cayenne powder (optional)

salt pepper and garlic powder to taste

1/4 cup fresh parsley, finely chopped

1 pound shredded cheese (I used mild cheddar)

1 cup of shredded sharp cheese (optional)



Directions:
Preheat oven to 350 and bake potatoes for an hour, or until soft and tender.
Remove potatoes from the oven and let cool about 20 minutes.
Melt the butter in a sauté pan.
Sauté the green onions, parsley, seasonings (except cayenne) and crawfish.
After a couple minutes, add the cayenne powder to the ingredients being sautéed and mix well.
When the ingredients in the sauté pan have about 4-5 minutes left, add cheese.
When the cheese has melted remove from stove and set aside.
Scoop out the potatoes and put in a large mixing bowl.

Fold in the crawfish and cheese mixture.

Scoop the mixture back into the empty potato skins

Sprinkle the sharp cheese on top of the potatoes.

Bake at 350 for 10 minutes and serve immediately.

Bon appétit!
This recipe and photo was provided to us by our good friend Evelyn Brandon, thanks so much!

Cajun Recipes-Cajun and Creole Recipes