Pop's Sweet & Garlicky Grilled Pork Loin
I love this recipe! I have never been able to do a good job on the grill, but with the recipe and a pork loin, I think I can actually manage it!
Even though Pop's make this pork loin on his Big Green Egg, he gives directions for just using a normal grill!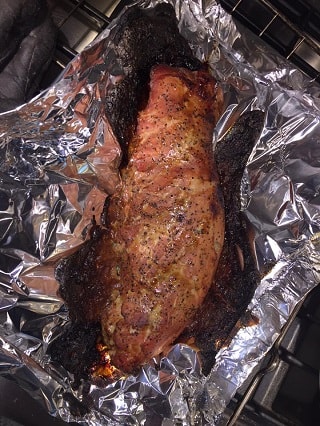 Ingredients:
1 Pork Tender Loin Roast

5 cloves of Garlic

3 tablespoons of Brown Sugar

1/3 cup of Soy Sauce

2 tablespoons of Sesame Oil

3 tablespoons of Honey

1/2 teaspoon of ground Ginger powder

2 teaspoons of finely ground Black Pepper



Directions:
Combine garlic, 3 tablespoons of brown sugar, soy sauce, sesame oil, honey, ground ginger, and 2 teaspoon black pepper.

Blend in a food processor or grind to a paste with a mortar and pestle. Inject the paste into the roast using a meat injector. 20-30 injection points should give a good spread, reserve about ½ to ¾ cup.

Put in plastic bag with rest of paste to marinate. Let roast sit in fridge overnight.

Heat your Big Green Egg to 350-400 degrees (medium indirect heat if you're not using a Big Green Egg) and soak apple wood chips.

When ready to cook, drain the apple wood chips and add to the coals. Spread them around so they burn with the charcoal throughout the cooking period.

Place the roast on a rack and place in a drip pan and place directly on the grill (you can also use a plate setter if you wish). Be sure and put the rest of liquid from bag over meat.

Cook the roast for 1 hour or to at least 160 degrees. Once at temperature, remove the roast and let sit for 20 minutes. Slice the roast and serve!

Pop's says: "Nothing better on a cold night than pork tenderloin on the Big Green Egg." I say, that's true, but, this would also be delicious at any time of the year!
Cajun Recipes Page 1
Non Cajun Pork Recipes