Louisiana Alligator Creole Stew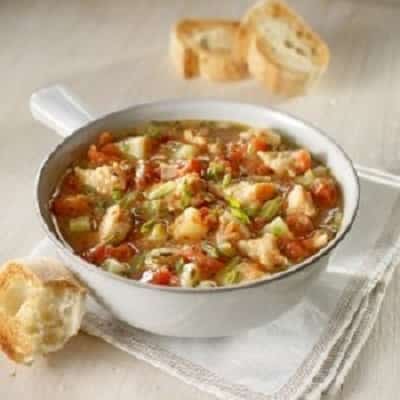 Ingredients:
4 lbs. Louisiana Alligator - 1 inch cubes

3 Tbsp. canola oil

4 Tbsp. garlic, minced

2 cups onions, medium dice

1 1/2 cups green bell peppers, medium dice

1 cup celery, medium dice

1 cup white wine

5 cups chicken stock

48 oz. tomatoes, canned, diced

3 cups potatoes, medium dice

2 Tbsp. thyme, dried

2 Tbsp. oregano, dried

2 bay leaves

1/4 tsp. cayenne

2 tsp. original TABASCO® brand pepper sauce1 tsp. Worcestershire sauce

Salt, to taste

Pepper, to taste

1/4 lb. Butter

2 cups green onions, chopped

2 French baguette, sliced and toasted
Directions:
Heat canola oil in 8-qt. stockpot over medium-high heat. Add garlic, onions, green peppers and celery. Cook for 6-8 minutes, until onions are translucent and vegetables are tender.

Add white wine, chicken stock, canned tomatoes, potatoes, thyme, oregano, bay leaves, cayenne, TABASCO® and Worcestershire. Season to taste with salt and pepper. Bring to simmer and cook for 5 minutes.

Add Louisiana Alligator to stew. Cover and simmer for 45 minutes. Add butter and green onions to stew and stir until melted. Remove bay leaves.

Serve with sliced toasted French bread.
Recipe and Photo Courtesy of Louisiana Seafood and Marketing Board, used with permission.