Roasted Brussels Sprouts with Creole Honey Mustard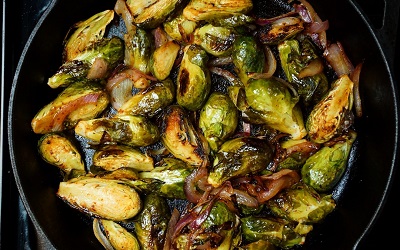 Ingredients:
1 lb. brussel sprouts, halved

½ red onion, sliced

1 Tbsp. olive oil

1 ½ tsp. Slap Ya Mama Low Sodium Blend Seasoning

1 ½ Tbsp. balsamic vinegar

2 tsp. honey

1 ½ tsp. creole mustard



Directions:
Preheat oven at 425 degrees F

In a large bowl, mix together brussel sprouts, onions, olive oil and Slap Ya Mama Low Sodium Blend Seasoning.

Spread evenly into an oven safe skillet or baking sheet.

Roast for 25 to 30 minutes, stirring only once. The brussel sprouts should be tender and slightly browned. Remove from heat.

In a small bowl, mix together balsamic vinegar, honey and creole mustard.

Drizzle over roasted brussels sprouts and gently mix.

Serve and enjoy!
Servings: 4

Recipe and photo courtesy of Jack Walker over at Slap Ya Mama