Crawfish Gnocchi With Cream Sauce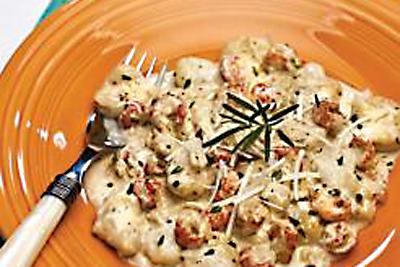 This is a creamy and delicious crawfish dish. Crawfish made with a wonderful sauce, and tossed with gnocchi
Ingredients:
2 Tbsp. extra virgin olive oil

3 shallots, minced

3 cloves garlic, minced

Leaves from 3 stems thyme, minced

Leaves from 3 stems rosemary, minced

1 cup dry white wine

2 cups heavy cream

Salt and freshly ground black pepper, to taste

8 oz. Louisiana crawfish tails

1 package of your favorite gnocchi, cooked according to package directions



Directions:
Heat the oil in a large saucepan set over medium-high heat. Add the shallots, garlic, thyme, and rosemary and cook until shallots are translucent, about 6 minutes. Add the white wine and increase the heat to high.

Cook until liquid is reduced by half, about 5 minutes. Add the cream, reduce the heat to low, and cook until cream is reduced, about 10 minutes.

Add the crawfish tails and cook until heated through, about 4 minutes. Season with salt and pepper. Toss with gnocchi and serve.
Cooking/Prep Time: 30 minutes. Serves 6 to 8.

Recipe and photo courtesy of Louisiana Seafood and Marketing Board, and Jesus Varguez, Roux Louisiana Kitchen/