Crawfish Boil Potato Salad
Have leftover potatoes from a crawfish boil? Make this delicious potato salad with the leftover for extra zip and flavor!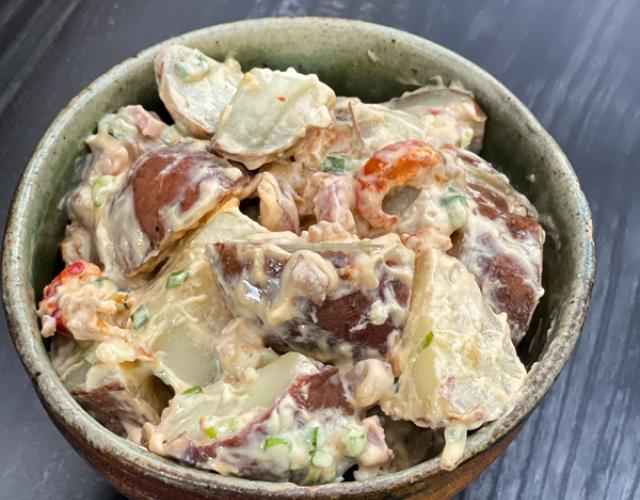 Ingredients:
Dresssing
1 head garlic, reserved from the crawfish boil

1 pinch kosher salt

2 egg whites

2 tbs Creole Mustard

¼ cup lemon juice

1 cup vegetable oil

1-2 ice cubes if you want it fluffier



Potato Salad
½ cup diced sausage, left over from the boil

6-10 potatoes, left over from the boil and cut into bite size pieces

3-4 green onions, chopped

Creole mustard, to taste

olive oil, as needed

salt & pepper, to taste

additional fresh herbs, to taste

more garlic, to taste



Directions:
Dressing
Squeeze out 1 head of garlic into the blender or food processor. Add salt and egg whites.

Blend until well combined. Add the Creole mustard.

With the blender running on medium, slowly add in lemon juice and vegetable oil.

If you'd like to use the mixture as a dip instead of a salad dressing, add in 2 ice cubes and blend for about 30 seconds. That will fluff it up.

Double the recipe if serving a crowd, people love it!!!
Potato Salad
In a bowl add diced sausage & potato pieces.

Add dressing by the spoonful, gently folding to coat the mixture. Add ½ the green onions and continue to fold, adding more dressing as needed.

Adjust taste with salt and pepper & fresh herbs. Fold in more Creole mustard and olive oil if you find the potato salad too dry.

Garnish with chopped green onions and fresh herbs.
Recipe and Photo Courtesy of Louisiana Seafood. Used with permission.