Chile and Cheese Spirals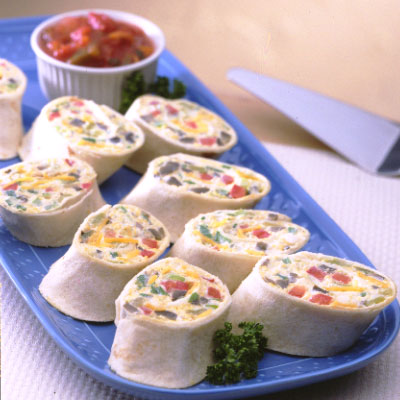 Ingredients:
4 ounces cream cheese, at room temperature

1 cup (4 ounces) shredded cheddar cheese

1 can (4 ounces) diced green chiles

3 green onions, sliced

1/2 cup chopped red bell pepper

1 can (2 1/4 ounces) chopped ripe olives, drained

4 (8-inch) soft taco-size reduced-fat flour tortillas

Bottled chunky salsa



Directions:
COMBINE cream cheese, cheddar cheese, chiles, green onions, bell pepper and olives in medium bowl.

SPREAD 1/2 cup cheese mixture on each tortilla; roll up. Wrap each roll in plastic wrap; refrigerate for 1 hour.

REMOVE plastic wrap; slice each roll into six 3/4-inch pieces.

Serve with salsa for dipping.
Makes:24 Prep Time:15 MINUTES Total Time: 75 MINUTES
Used with permission from Nestle and meals.com.
More Christmas appetizer recipes