Mississippi Mud Pie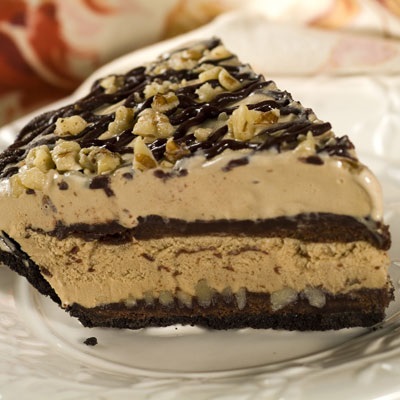 Ingredients:
1 prepared 9-inch (6 oz.) chocolate crumb crust

1 cup powdered sugar

1 cup (6 oz.) NESTLÉ® TOLL HOUSE® Semi-Sweet Chocolate Morsels

1/4 cup (1/2 stick) butter or margarine, cut up

1/4 cup heavy whipping cream

2 tablespoons light corn syrup1 teaspoon vanilla extract

3/4 cup chopped nuts, divided (optional)

2 pints coffee ice cream, softened slightly, divided Whipped cream (optional)



Directions:
HEAT sugar, morsels, butter, cream and corn syrup in small, heavy-duty saucepan over low heat, stirring constantly, until butter is melted and mixture is smooth. Remove from heat. Stir in vanilla extract. Cool until slightly warm.

DRIZZLE 1/3 cup chocolate mixture in bottom of crust; sprinkle with 1/4 cup nuts.
Layer 1 pint ice cream, scooping thin slices with a large spoon; freeze for 1 hour. Repeat with 1/3 cup chocolate mixture, 1/4 cup nuts and remaining ice cream.

Drizzle with remaining chocolate mixture; top with remaining nuts.

Freeze for 2 hours or until firm.

Top with whipped cream before serving.
Recipe and photograph used with permission of Nestlé® and meals.com.