Jalapeño and Honey BBQ Catfish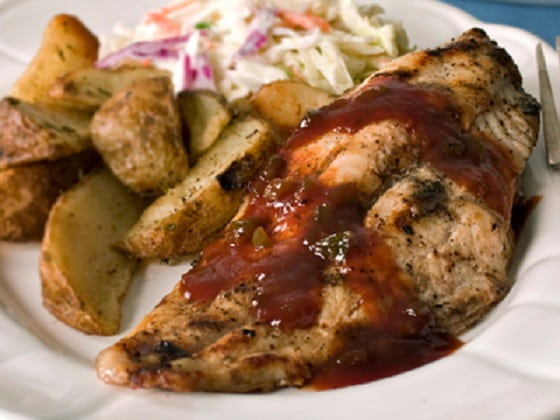 Ingredients:
2 U.S. Farm-Raised Catfish Fillets

1 lemon, halved

1 teaspoon kosher salt

1 teaspoon freshly ground black pepper

Jalapeño and Honey BBQ Sauce (Recipe follows.)
For the Sauce:
2 tablespoons sweet pickled jalapeños, chopped

2 tablespoons honey

1/2 cup of your favorite BBQ sauce



Directions:
Preheat grill.
To make the Jalapeño and Honey BBQ Sauce, combine sauce ingredients in microwave-safe bowl. Cook 30 seconds or until heated through.
Place catfish in shallow dish and squeeze 1/2 fresh lemon over each fillet.
Season fillets with salt and pepper.
Place fillets on well-oiled grill for approximately 3 to 4 minutes; turn and grill 2 to 3 minutes more.
Transfer catfish to serving plate and drizzle with warm Jalapeño and Honey BBQ Sauce.
Serves 2.
Recipe and Photo courtesy of US Catfish. Used with permission.