Herbed Crawfish or Shrimp Pasta
A delicious crawfish or shrimp recipe using herbs and served over pasta of your choice.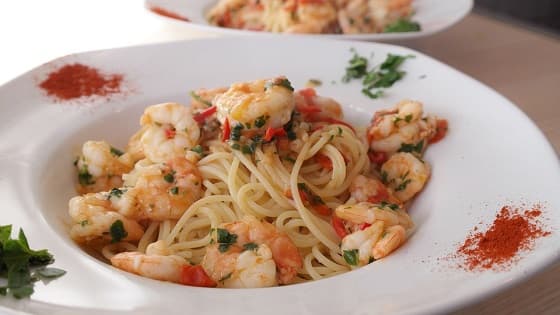 Recipe Ingredients:
2 lbs. Louisiana crawfish tailmeat (or shrimp)

3 garlic cloves, chopped

1/4 lb. melted butter

1 t. thyme

1 t. rosemary

Pinch of dill weed

Pinch of sweet basil

2 T. Worcestershire sauce

2 T. olive oil

Salt & cayenne pepper to taste

2 T. lemon juice

Pasta



Directions:
Mix all ingredients except pasta and marinate in refrigerator at least 4 hours.

When ready to cook, place entire mixture in a heavy sauté pan over medium heat for about 20 minutes.

While crawfish mixture is heating, cook pasta with a little olive oil.

Serve herbed crawfish over hot pasta.
Recipe and Photo courtesy of Leslie Davis and the Louisiana Crawfish Promotion and Research Board, Crawfish.org. Used with permission.
Cajun Recipes-Cajun and Creole Recipes