Cocktail Crawfish Turnovers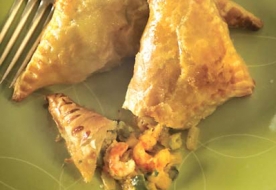 Ingredients:
3 tablespoons unsalted butter

1/4 cup chopped onions

2 tablespoons chopped green bell peppers

2 tablespoons chopped celery

1 1/2 teaspoons Emeril's Original Essence

1/4 teaspoon salt

1/8 teaspoon cayenne pepper

1/2 teaspoon chopped garlic

2 tablespoons all-purpose flour

3/4 cup whole milk

1/2 pound peeled Louisiana crawfish tails

1/4 cup grated Pepper Jack cheese

2 tablespoons chopped green onions

2 teaspoons chopped fresh parsley

1 17.3-ounce package frozen puff pastry (2 sheets), thawed in the refrigerator

2 egg yolks, beaten with 2 teaspoons water



Directions:
Heat butter in a large skillet over medium-high heat. Add onions, bell peppers, and celery.

Season with the Essence, salt, and cayenne and cook, stirring, until the onion is slightly soft, about 2 minutes. Add garlic and cook, stirring, until fragrant, about 30 seconds. Add flour and cook, stirring until the mixture is lightly golden, about 3 minutes. Add milk and continue stirring until the mixture is smooth and thick, about 3 minutes. Remove from heat. Add crawfish tails, cheese, green onions, and parsley. Stir to mix well. Remove from heat and let cool to room temperature.

Preheat the oven to 425ºF. Roll out each pastry sheet to 12x15 inches on a lightly floured surface. Trim the edges to make them even. With a sharp knife, cut each sheet into 20 3-inch squares. Mound about 2 teaspoons of the crawfish mixture in the center of each square, brush 2 edges of the squares with the egg wash, fold over diagonally, and seal. Crimp the edges with a fork. Lightly brush the tops of the turnovers with some of the egg wash. Using the tip of a paring knife, make a tiny slit in the top of each turnover so that steam can escape during baking.

Line a baking sheet with aluminum foil or parchment paper. Place turnovers about an inch apart on the sheet and bake until golden, 12 to 15 minutes. Remove from the oven and let cool for 5 minutes before serving.
Recipe courtesy of louisianaseafood.com and Louisiana Cookin'
Cajun and Creole Recipes
Non Cajun Appetizers