Blackened Louisiana Alligator Slider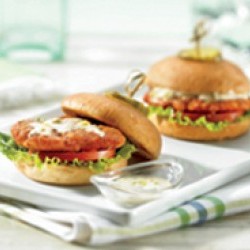 These bite size sliders with alligator meat, pack a big flavor with blackening spice, and a blend of creole mustard and tartar sauce used instead of mayo.
Ingredients:
3/4 lb. Louisiana alligator, cut into medallions 1.5 oz., lb.

1 3/4 Tbsp. creole mustard

3/4 cup tartar sauce

1/4 cup prepared blackening seasoning

8 slider buns

8 Roma tomatoes, sliced

1/4 inch thick 8 leaf lettuce leaves - cut to fit the slider bun

8 Kosher pickle chips



Directions:
Mix Creole mustard with tartar sauce and hold under refrigeration until needed.

Toss Louisiana Alligator with blackening seasoning. Place on hot grill, turning one time until cooked through.

Toast cut sides of slider buns.

Spread 3/4 tsp. Creole tartar sauce on each cut side.

Place heels on serving plates, top each with 3 tomato slices, 2 lettuce leaves and 1 medallion grilled alligator and close with crowns.

Garnish each plate with 3 pickle chips.
Photo Courtesy of Louisiana Seafood for Life. Recipe courtesy of Louisiana Seafood and Marketing Board. (www.louisianaseafood.com)